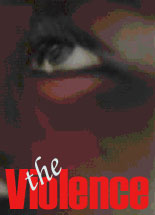 The Violence – You are invited to an exclusive screening of "The Violence" to raise funds for this important work.
Screening:
Village Pourhouse
64 Third Avenue @ 11th Street, NYC
Friday May 4, 2007 – 6:00-8:00pm
$5 cover; food & drink specials available during the event
Rarely are Haitian women heard describing the outrage and impact of domestic violence on their lives and the lives of their children. In 2004 Dwa Fanm embarked on a project with filmmaker Michèle Stephenson and the Rada Film Group to produce a 60 minute documentary that would allow these women to tell their stories.
The thought-provoking and absorbing 10 minute trailer follows three survivors of domestic violence. Brilliant cinematography and evocative music underscore the power of these women's experiences, whose emotionally charged tone is strikingly honest and straightforward. Presenting the rarely heard voice of Haitian battered women, this important film begins to offer valuable insight into the contradictions and complexities of domestic violence in the Haitian immigrant communities of New York City.
The Violence is a work in progress that will culminate in a 60 minute documentary as we continue to follow these three women over the next year.
Dwa Fanm ("Women's Rights" in Haitian Creole) is a human rights organization founded in 1999 to protect the rights of Haitian and black immigrant women and girls.
Please call Dwa Fanm to RSVP : (718) 230-4027 extension 313 or 309
The Rada Film Group is a production company with over 10 years of experience in award-winning documentary and narrative filmmaking. The Rada Film Group's body of work expresses the company's commitment to using the art of visual storytelling to give voice to communities of color throughout the world. Com/28-04-07